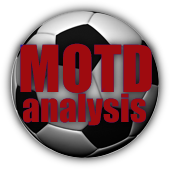 The NEW FEATURE called Match of the Day Analysis (MOTD-A) will start on Saturday.
It is an Exclusive new feature for the EC7046 Blog.
Myself and Dom will be doing the MOTD-A and we hope you'll enjoy reading our articles.
Each matchday (Saturday & Wednesday) Dom and myself will select the Match of the Day in each Division.
I'm doing Division 1 & 4 and Dom will do Div-2 & 3.
Any game could be the MOTD because we select the close matches which could be:
1) The top of the table clash
2) The basement battle
3) The Play-off/mid table matches.
Various stats and info will be included and we will include a MOTD FORECAST, which is a guess at the result based on the facts and figures that we have.
All will be added to the blog - so keep watching - it maybe YOU that we're talking about.
It doesn't end there, After the matches are finished - we do a MOTD ANALYSIS of the matches which WILL include:
1) Did we get the MOTD Forecast correct
2) Did the managers' get their tactics/formation right/wrong
and more....
So, sit back and get ready for this new feature and feel free to leave a comment in the blog (under each article)
MOTD ANALYSIS - Starting on Saturday