Accrington Stanley - Perfection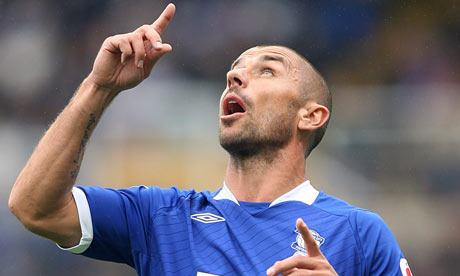 Accrington Stanley may still be a long way from reaching there long term goal of being a force to be reckoned with in higher divisions, but even though there still in Division 4 and battling for a play-off spot at an early stage in the second season of the new era they seem to have seemingly reached perfection.



Following fantastic victories recentley, first over then top of the league Dagenham & Redbridge away from despite being down to 9 men with the red cards of Leroy Lita and Bobby Hassell then followed by a win over then top of the league Brighton & Hove Albion at home, Accrington Stanley managed to beat Shrewsbury Town away from by 7 goals to 0 with everyone bar the goalkeeper getting a perfect match rating.

The performance can only really be described as perfection, or as close to perfection as possible as everyone somehow managed to find there best, or one of there best performances of the season in the same game. Whilst the only person who didn't manage to get the full 10/10 was Paul Smith, Accrington's goalkeeper who stopped everything that got through the solid Accrington defence but the fact was very little did get through meaning Smith couldn't have played aswell as he had done in previous encounters with Brighton & Dagenham.
In particular Kevin Phillips, Andrew Davies and Danny Welbeck were the contenders for man of the match. Kevin Phillips and Andrew Davies both netted braces whilst Danny Welbeck found the net aswell as picking up four assists as he was involved in 5 of the 7 goals. In the end it was Andrew Davies who took the man of the match award although in truth the whole team could have earned the man of the match award barring the goalkeeper.
To add to what has been a great for Accrington Stanley, Gavin Mahon has ended his stay at the club after being the replacement of Michael Dobson and in his place Tom Soares has joined the club for a fee in the region of £2 million. Only the signing of Leroy Lita convinced Accrington Stanley to dish out more on a single player and Soares will be a key man for Accrington Stanley for the rest of the season as he partners the ever goalscoring Matthew Bates in midfield.
Soares is a very good player, and he'll be up there with Accrington's best as a very good solid midfield player who isn't short of strength who yet has a lot of pace in his game. Soares was one of a few targets for Accrington alongside the likes of Lee Williamson, Nick Bailey and Neil Danns but Accrington opted with the younger choice in Tom Soares whilst the key youth player at the club in Kieron Cadogan is set to leave the club for a fee in the region of £1 million and be replaced by fresh young tallent at Accrington Stanley.
">