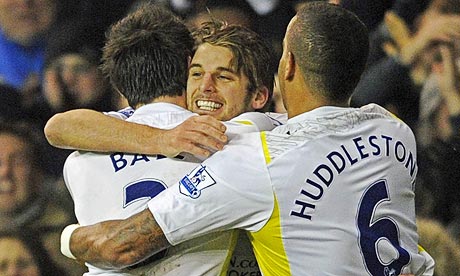 Tottenham did the deed tonight and over came a 10 man wolves 2-1 at the lane to all but secure their Premier league status. 2 goals in 3 minutes stunned wolves. The Goals came form unlikely people left back Ekotto and Huddlestone, after wolves had taken the lead. But it was Bale the welsh wizard who stole the show with a Man of the match performance setting up both goals.
The first half was a 0-0 bore. Wolves who look to cement european qualification and spurs who look to secure top flight status both sat back in fear of making the first mistake. Wolves slipped up first. with center back D. zokora

getting a straight red for a horror tackle on Gerrard who was lucky not to have his leg broken.
In the second half the game came to life after stern talks from both bosses. It was wolves who first took the lead spurs were a little to casual due to wolves only having 10 men, Simao took his goal well with a few step overs to beat hutton before cooly slotting the ball under the advancing Lloris. 0-1 BC Cliffs looked less then happy but thats when Bale stepped up to the plate after being handed the captain's arm band he led by example with stunning runs down the left flank. He caused wolves all sorts of problems. For spurs first goal bale took the ball and carried it 50 yards and with and ekotto on the over lapp bale's perfectly weighted through ball sent Ekotto one on one with the keeper and there was only one out come... 1-1.
less then 3 minutes had pass before bale was at it again this time breath taking skill and pure pace had him beating 3 wolves players before a inch-perfect cross had Huddlestone's head all over it a huge leap with a powerful bullet header on the end of a perfect cross saw spurs score
2-1.